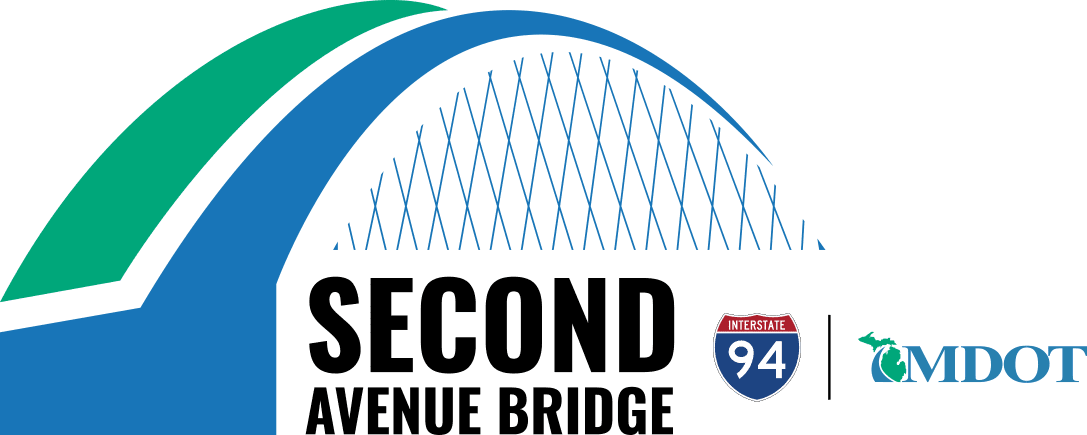 Second Avenue Bridge
The new Second Avenue bridge is an engineering marvel that has the distinction of being Michigan's first network tied-arch bridge. "Network" refers to the numerous cables that are crossed from the top of the arch to the part of the structure supporting traffic. Once completed, the new bridge will connect the neighborhoods located on the north and south sides of Second Avenue, and provide enhanced mobility for pedestrians, bicyclists, and motor vehicles.
The bridge will feature one car lane in each direction, 9-foot-wide sidewalks, and 8-foot-wide bike lanes. A variety of environmentally friendly aesthetic treatments have been added, including approach landscaping and LED architectural lighting.
The skeleton of the new bridge is being built off-site at the Wayne State University Palmer parking lot. At the same time, construction crews worked on-site building the bridge foundation and abutment walls along the I-94 freeway.
The 1,100-ton bridge skeleton will be rolled across Lot 22 to Second Avenue into its final position over I-94 using self-propelled mobile transports (SPMTs). SPMTs are multi-axle rolling platforms that can move the heaviest loads. They can be operated mechanically or remotely.
The Second Avenue bridge is expected to reopen to traffic this fall.
For more information, contact:
Terry Stepanski, PE, I-94 Senior Project Manager:
[email protected]
517-241-0233
I-94 Project Office
3031 West Grand Blvd, Detroit, MI 48202