It takes effective teamwork to successfully deliver any project. It is more important than ever before for teams to collaborate, share information, and understand how to best achieve the ultimate goal: Building infrastructure that is safe, reliable and sustainable for decades to come! Members of the I-94 Modernization Project team are: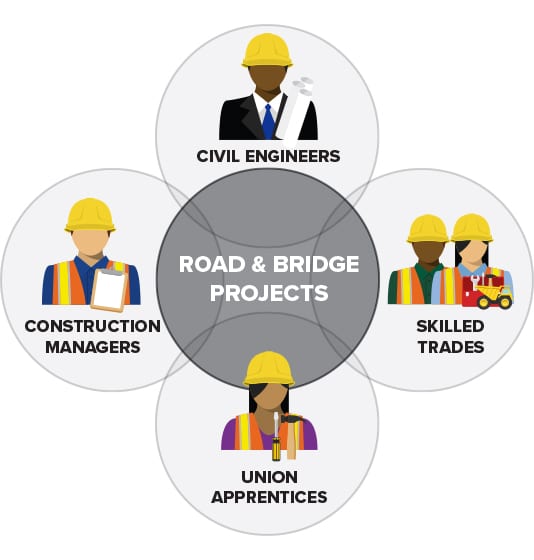 Civil engineers create, improve and protect the environment in which we live. They plan, design and oversee construction and maintenance of infrastructure projects, such as roads, railways, airports, bridges, harbors, dams, irrigation projects, power plants, and water and sewerage systems.
A construction manager, also known as a site project manager, is required to supervise and direct various operations within a building project. This person must ensure a project is completed safely, runs on time, and adheres to the allocated budget allowance.
Skilled trades are careers that require specific training, such as a carpenter, operating engineer, brick mason, paver, welder, electrician, plumber, and pipefitter. Skilled trades employees work with the site manager to build roads and bridges that were designed by civil engineers.
A union apprentice is someone who earns while they learn on-the-job, and takes mandatory classes in their chosen trade. Before being hired as an apprentice—which leads to a long-term, good paying career—candidates must meet several requirements of the application process:
High school diploma or GED
18+ years of age
Reading and math at 8th and 9th grade level
Driver's license
Reliable transportation
Strong work ethic
Successfully pass a physical exam and drug screen.